I (unknowingly) married my own 6th cousin ! !
Here's how it came about, refer to the map below for the birthplaces of common ancestors. It also shows the County Towns.
William and Martha were each born in Huntspill in Somerset at the beginning of the 1700s (her family having been resident in the area for at least 200 years by that time), they married each other and had family in East Brent.
Line 1
A daughter born there married and had family there, her grandson though was born at Berrow.
He moved to Cardiff in Wales where 3 more generations were born.
The family moved out of Wales, and married and had children near Croydon in Surrey.
i.e. Huntspill x2 → Berrow → Cardiff x3 → Croydon area
Line 2
A son (of William and Martha) had family born over the next 4 generations at Uphill, Hutton, Shapwick and Bridgwater (all in Somerset).
A move to London meant a Tottenham birth for the next generation, and then the following generation born near Croydon as per Line 1 above
i.e. Huntspill → Uphill → Hutton → Shapwick → Bridgwater → Tottenham → Croydon area.
Without sharing 5 x Great Grandparents, we would have each had 128 ancestors in that generation, but by sharing we have made a contribution to the fact that the world population was not enormously larger hundreds of years ago.
In fact in another branch, my own Great Grandparents were first cousins to each other.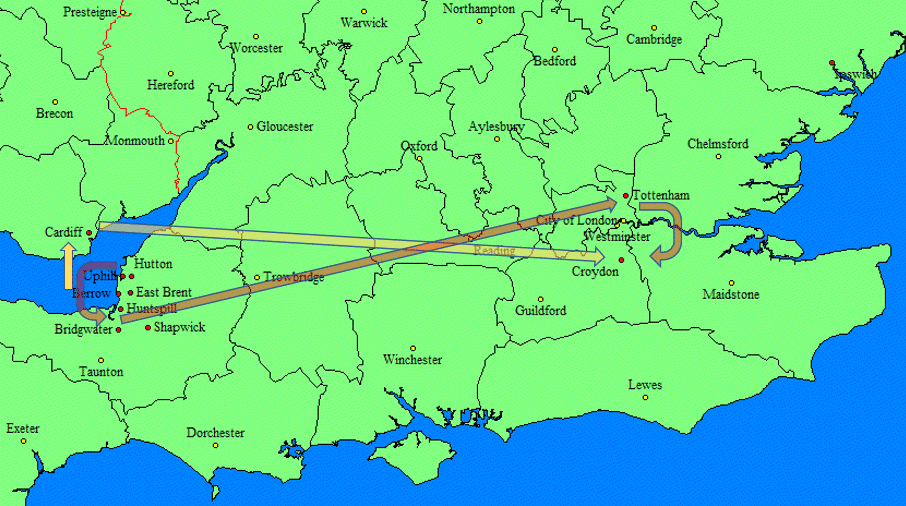 Birthplaces & County Townnames